[vc_row][vc_column][vc_column_text]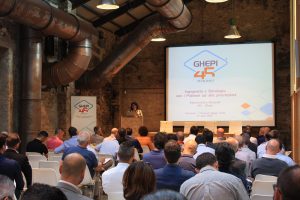 Ghepi celebrates its 45 years with a highly innovative workshop!
"Engineering and Strategy with High Performance Polymers" the title of the event organized by GHEPI on 4 July 2017 at the Reggio Emilia Tecnopolo.
To celebrate our 45 years we decided to organize a training event inviting our Suppliers to share the latest news from the world of thermoplastic materials with our Customers, in a real interactive workshop.
Technopolymers for project optimization and Technopolymer Innovation for structural and ae
sthetic applications were some of the topics of our workshop. But also sustainability, with Metal Replacement for reducing weight, volume and CO2 emissions, and Biopolymers as sustainable solutions for technical components.
We thank for their technical and training contributions Erico Spini from Radici Group, Devid Mosca from Mito Polimeri, Ciro Piermatteo from Covestro AG and Vittorio Bortolon from Plantura Italia.[/vc_column_text][/vc_column][/vc_row]