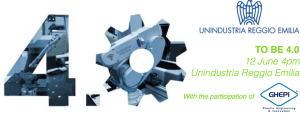 On June 12 at 4pm @Unindustria Reggio Emilia will be held "TO BE 4.0", a workshop with companies that have adopted the main Digital Factory enabling technologies: artificial intelligence, predictive maintenance, additive manufacturing, collaborative robotics, big data and data analytics , augmented reality and virtual reality, cloud and cyber security.
We will be there, to bring our experience in the field of experimentation and application of COBOT in plastic injection molding.
Here is some information about the program of the day:
15:45
Accreditation
16:00
Introduction
Giannicola Albarelli, Vice President of Innovation, Research and Quality Unindustria Reggio Emilia
16:15
The TO BE 4.0 project
Davide Bezzecchi, Research and Innovation Area Unindustria Re
16:30
toBE4.0: digital transformation projects
Cesare Fantuzzi, Teacher Dismi Unimore
16:45
Testimonials and best practices: 7 business cases
1. Acquisition of signals from automatic machines (big data) and data analytics to support scheduled and predictive maintenance in Clevertech and Elettric 80, Dismi Unimore – ArsControl Lab
2. Experimentation and application of Collaborative Robots in Plastic Injection Molding, Cristina Gherpelli – GHEPI Srl
3. Augmented reality viewers for industrial applications (AR – VR) in Cobo, Federico Canuti – Glass Up Srl
4. Application of collaborative robotics for the assembly of hydroguide cylinders in Ognibene Power, Dismi Unimore – ArsControl Lab
5. Additive Manufacturing: the advantages in producing critical industrial elements using laser metal sintering technology, Andrea Pasquali – Zare Srl
6. The Virtual Assistant at the service of the Customer Service and the Internal Helpdesk thanks to Artificial Intelligence, Nicolò Magnanini – Lazy
7. How digital service drives business strategies; from 3d parts to the photo packing list, Davide Poletti – OCME Spa
Interventions:
Maurizio Brevini, President of the Meccatronica Unindustria RE Club
Isabella Bovero, President of the Digital Club Unindustria RE
18:30
Conclusions
Event reserved for members. Click here for registration.