In GHEPI we believe in the value of Organizational Quality in pursuit of Performance Excellence to generate high level Products and Services for our Customers.
For this reason, entrusting GHEPI with Project Development Management ensures:
Adherence to Customers' requirements
Standardization of procedures and reporting during the development of a new project
Setting criteria for optimizing and maintaining product quality
Our Quality Assurance procedures guarantee the oversight of all internal and external processes and we handle customer requests for specific controls.
GHEPI applies the following quality management and assurance methods and tools:
Project Quality
DFM – Design for Manufacturing
Project FMEA
Risk analysis
Product Quality
Quality Control Laboratory
PPAP Level 3
8D Report
Process Quality
Process FMEA
Process capability (CP-CPK)
Identification and traceability
Precision measurement with Mitutoyo Quick Vision Active, CNC Vision Measuring System which offers the following benefits: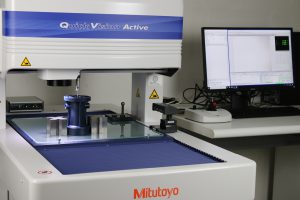 Programmable LED stage and coaxial light
4-quadrant LED ring light
High-resolution and high-speed color camera
High-quality zoom optics with interchangeable lenses
Compact design saves significant space
Powerful QVPAK 3D vision software
Touch-probe retrofittable
From wide-ranging measurement to micro-measurement, Mitutoyo guarantees high efficiency and versatility.
Certifications and Accreditations
For an ever-evolving organization
GHEPI has always adhered strongly to official reference systems for continuous improvement of business performance, as evidenced by our first ISO 9001 Certification in 1996.
Today we have the following set of recognized Certifications:
UNI EN ISO 9001: 2015 Quality Management System
UNI EN ISO 14001: 2015 Environmental Management System
UL QMMY2 Polymeric Material – Fabricated Parts
And Accreditations:
Accreditation as a Research Laboratory at the Emilia-Romagna High Technology Network
Accredited at the CRIT Excellence Suppliers Network